MICRO 2 – ultraportable thermal-imaging monocular, that has no analogue by its mass-dimensional characteristics.
MICRO 2 thermal-imaging monocular, which is designed for observation, detection, recognition, identification and photo fixation of thermal contrast objects, at day or night in various weather conditions.
Thermal imaging sensor, lens, OLED display, digital compass, internal 3-axis gyro sensor and G meter are integrated into minimal size and weight shockproof and waterproof aluminum-magnesium alloy case.
Functional and operational capabilities offers an opportunity to use the device not only in everyday life, but in an unexpected situations with weight and dimensions limitations , and often with requirements of its hidden carrying. At day or night, in fog, smokescreen, in any, even the most adverse weather conditions, Micro 2 easily detects thermal object and becomes important tool at : search and rescue operations on land or on water, reconstruction works in a result of natural disasters, border protection, operations of special forces or police operations. Easy handling, universal and compact Micro 2 is perfect for wildlife monitoring, outdoor enthusiasts and hunters.
Micro2 has no analogues in mass-dimensional characteristics and rightfully considered to be the first among others tiny thermal-imaging monoculars. Smaller than a pack of cigarettes, Micro2 fit in the pocket of your coat or jacket. You will find what you are looking for with Micro 2.
MICRO2 V

Micro2 Q

Optical system
Lens

35 mm f/1.5

35 mm f/1.5

Zoom

x1, х2, х4, х8

x2, х4, х8

Field of view, 0

17,7 х 13,3

8,9 х 6,7

Field of view, m for 100 m /  109 yd

31,1 х 23,3 / 34,0 х 25,5

15,5 x 11,7 / 16,9 х 12,8

Focusing

Manual

Human detection range, m/yd

1140 / 1247

1140 / 1247

Human recognition range, m/yd

280 / 306

280 / 306

Human identification range, m/yd

142 / 155

142 / 155

Thermal sensor
Type

uncooled microbolometer

Resolution

640х480

384×288

Pixel size

17 µm

Spectral range

7.5 – 13.5 µm

Frame rate PAL/NTSC, Hz

8.3/7.5; 25/30; 50/60

NEdT, F1.0

< 50 mК

Monochrome and colour palletes

Yes, 12 modes

Sensor calibration

Auto, by lens cap

Display
Type

OLED

Resolution

800х600

Eye relief

30 mm

Interfaces
USB

microUSB

Additional functions
Internal flash memory

 Yes, 512 Mb

Photo recording

+

Data reading of a microSD or internal memory via USB

+

Profile settings

 Yes

Setting via IR&D software

+

Quick menu

+

Automatic display brightness correction

+

System settings
 Switch-on time

<4 seconds

Battery life

>2 hours (at 0°С)

Battery type

1 x CR123A or 1 х 16340

Range of the external power supply voltage, V

5 ± 0.3

Integrated sensors
Rest  sensor

+

Eye sensor

+

Free Fall sensor

+

Light sensor

+

Elevation sensor

+

Roll angle sensor

+

Switch-off timer

+

Digital compass

+

Gyroscope

+

Physical parameters
Operating temperature range

-40°С… +65° С

Ingress protection rating (Waterproof)

IP66

Housing material

Aluminum-magnesium alloy

Dimensions, mm

88,6 x 51,5 x 31,5

Weight (without batteries), g

< 120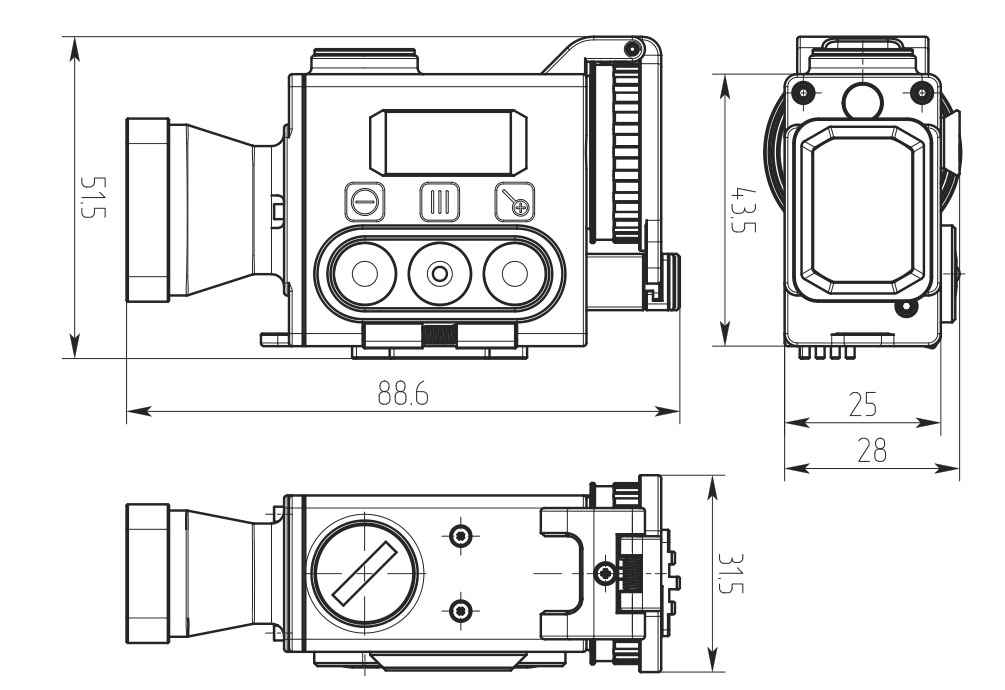 Features
Extra smaller mass-dimensional characteristics in comparison with the existing analogues;
Not inferior in efficiency of solving problems of objects observation and identification to the thermal devices with standard dimensions;
Zoom х2, х4, х8 (continiuos zoom);
Photo function;
Automatic image rotation;
Azimuth and elevation angle indication;
Contrast, colour, detalization and AGC algorithm settings;
Auto calibration by the lens cover;
Shutdown of the device, if the cover is closed for a long time;
Built-in electronic compass;
Built-in 3-axis gyro sensor and G meter;
Eye sensor (display turns off and device switches into power saving mode when eye is removed);
Light sensor (automatically set display brightness depending on the external light);
Profiles – joins and saves numerous of personal settings. User can quickly select most suitable profile to the observation conditions (time of day, weather, landscape);
High-strength alloy case;
Comfortable batteries changing;
Special bracket for operating as a helmet-mounted monocular (optional);
Supports English interface;
Online service, advisory support and training, twenty-four-hour support for the customer.