Ultra compact anemometer is to be used for wind direction and velocity measurements and can be used as wind sensor for IR&D sighting systems, which allows to output on the display calculation of the bullet drift at a shooting distance. Anemometer connection is performed via telemetry radio channel.
External influence security system allows to useanemometer in adverse weather conditions, anodized coating provides the durable usage and easy body framecleaning.
The device is powered by  three batteries CR123A type.
| | |
| --- | --- |
| Parameters | |
| Wind speed measurement | + |
| Range, m/sec, km/h, kn | 0 – 50 / 0 – 180 / 0 – 97.2 |
| Accuracy, m/sec, km/h, kn | ±0,5 / ±1,8 / ±1 |
| Wind direction measurement | + |
| Range, ˚ | 0 – 360 |
| Accuracy, ˚ | ±4 |
| Temperature measurement | + |
| Range, ˚С | -40 … +85 |
| Accuracy, ˚С | ±3 |
| Humidity measurement | + |
| Range, %RH | 0 – 100 |
| Accuracy, %RH | ±3 |
| Atmospheric pressure measurement | + |
| Range, hPa | 300 – 1100 |
| Accuracy, hPa | ±1 |
| Interfaces | |
| Radio interface, 2.4 GHz | + |
| System settings | |
| Battery life | > 96 hrs (at 0°С) |
| Battery type | 3x CR123A or 3х 16340 |
| Integrated digital compass | + |
| Physical parameters | |
| Operating temperature range | -45°C … +65°C |
| Ingress protection rating (Waterproof) | IP67 |
| Housing material | Aluminum- magnesium alloy / В95 |
| Dimensions, mm | Ø70 х 117,2 |
| Weight (without batteries), g | 350 |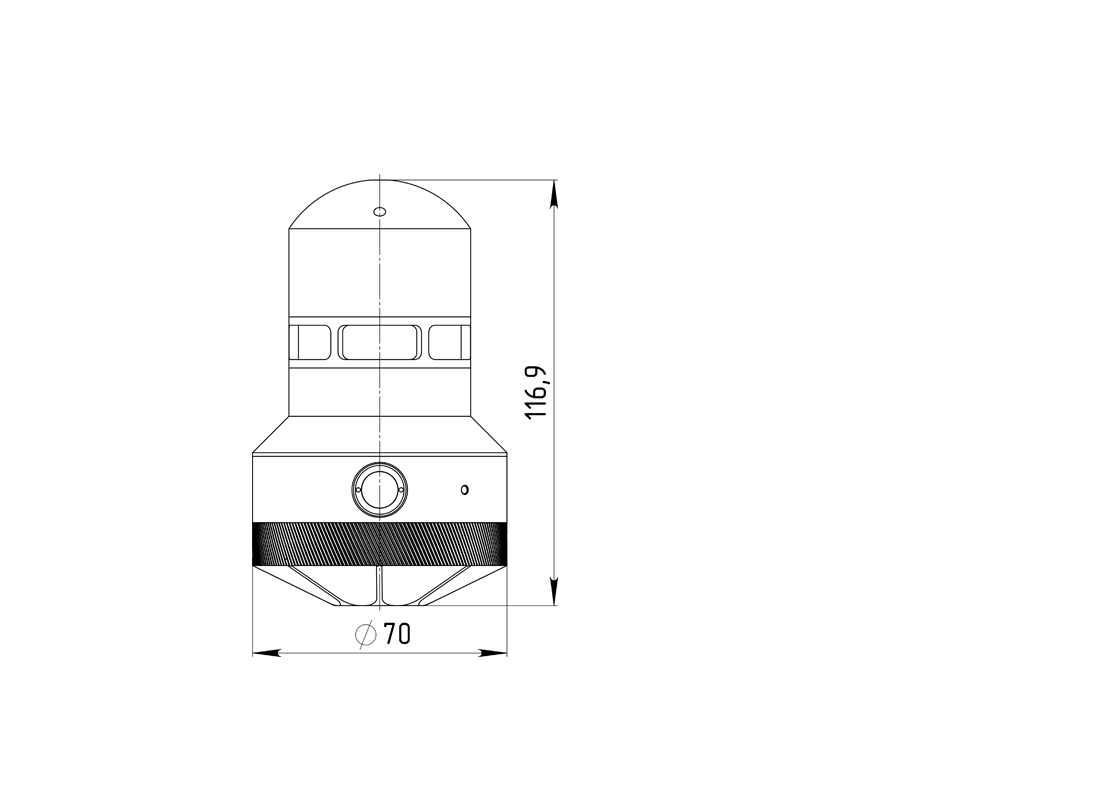 Features
Wireless connection to all IR&D devices;
Noair screws, vanes and other vulnerable mechanical construction elements ;
No need for "field orientation" before operation;
Ultra-compact;
Low power consumption (not more than 100 mW);
Ligtweight, ruggedand portable;
All-metal bodyand no moving parts;
Anti-corrosive coating;
Integrated compass allows to detect the wind direction automatically;
Data transfer via telemetric radio channel